Pause.  Step away for a moment. From the chaos, from the noise….into a still moment.
Reset.
Often when my infant is cranky in the morning, he just needs a 10 minute reset with a bottle and a short snooze. Oh wouldn't that be wonderful?  If we could just  have some milk and a short snooze and have everything be right in our world again?  How often do we long to push the reset button, so we can undue whatever has caused us to be in this stressed, weary, frustrated mindset.  I know that feeling of just being…'done'.
A Moment to Breath was written just for that purpose. Short five minute devotions to help you pause and reset.  I've only read 81 of the days, but I already have many of my favorites marked to go back to reread. Just as with anything written by humans (anything but the Bible), not every entry will be inspired for you.  But they are so short and simple to read, you can just skip to the next one.  Written by 80 different authors, there is bound to be one voice that connects with you.
We all need a moment to reset, just to step back and breathe.  When we take our eyes off of ourselves and our current situation, and refocus back on Jesus, we gain a more true perspective of the situation.  Instead of how big it is compared to us, we see how small it is compared to our Savior.
Let me encourage you to simply pause….often.     Even if only for 5 minutes in whatever form fits you.  Just to listen to His voice….and reset.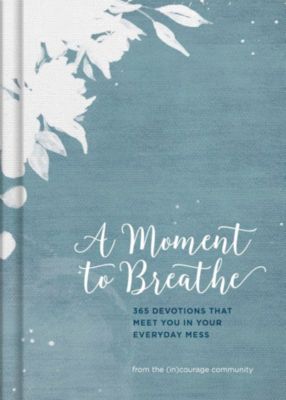 A Moment to Breathe